Before and After Basement Transformation From Waters Basement Services!
published on Wednesday, November 24th, 2021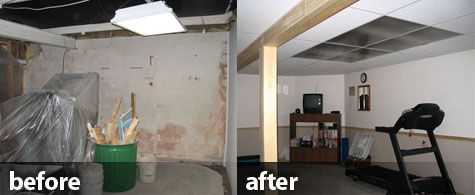 Wouldn't the upcoming winter be a whole lot more fun if your basement went from "before" to "after"??? Waters Basement Services can do a LOT to improve your home! Let them take your basement from useless to useful and LOVED!
Basement Cistern
Parging or Tuck-Pointing
Wall Crack Repair
Trench Drain
Reinforcer (Bowed/Cracked Walls)
Basement Painting
Waterproof Basement Wall Panels
Crawlspace Encapsulation
Stone Foundation and Structural Repair
Drain Tile/French Drain Installation
Window Wells & Topsoil
Sump Pump Installation
Lawn Scape Bubbler Pot
Bilco Doors/Gordon Doors
Basement Debris Removal
Rim Joist Spray Insulation
Egress Windows
Basement Finishing