Crossfield Heating & Air - Let's Talk Heating!
published on Tuesday, October 13th, 2020
Crossfield Heating & Air Conditioning keeps us warm in the winter and cool in the summer. (Of course this time of year we're really only concerned with the keeping warm part.) When it comes to the installation of heating solutions there is only one name to remember...Crossfield!

Ductless Split Heat Pump - For homes with no ductwork or areas where ductwork isn't practical, a ductless split-system heat pump is the perfect solution.
Boilers - Boilers provide quiet, consistent warmth with innovative technology and energy efficiency. Crossfield installs the industry's most innovative and dependable boiler manufacturers: Weil-McLain and Navian Combi
Heat Pumps/Dual Fuel Systems - A Heat Pump is an outdoor unit (similar to an air conditioner) that uses the outdoor air to cool your home in the summer and then reverses and heats your home in the winter.
Dual fuel (hybrid) systems combine a heat pump with a gas furnace to provide flexibility and optimize energy use by selecting the best source of fuel.
Furnaces - Crossfield selectively installs the industry's top manufacturers of residential furnaces and heating systems: Trane, Amana and Rudd.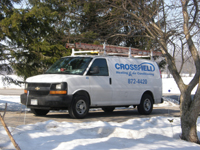 44 Donovan Street
Webster, NY 14580
585-872-4420