Dugan Creek for log loads, logging services and more!
published on Sunday, March 19th, 2017
Dugan Creek Lumber has been providing firewood to customers in Western New York for 3 generations.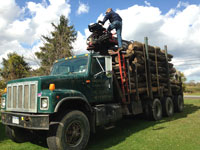 Dugan Creek can meet your firewood needs whether you need to keep the fire burning in your wood stove or keep the firepit roaring this summer.
Or maybe what you need is someone that can professionally log your woods? Dugan Creek takes pride in paying landowners an honest price for their timber.
When it comes to logging, log loads, industrial mats, or any type of lumber or logging needs or questions we highly recommend you give Dugan Creek a call at 585-226-6494. They have full milling capabilities and will customize your order.
Dugan Creek Lumber is located in Caledonia and services a large part of Western New York. Give them a call or visit their website by clicking on the banner below!