Dugan Creek Lumber For Log Loads, Custom Orders and Harvesting!
published on Tuesday, August 7th, 2018

Click anywhere in the banner above to visit their website!
Dugan Creek Lumber delivers log loads. Don't wait until the snow flies to think about stocking your wood for the winter! Get it delivered now and get the job done so you can enjoy the busy fall season and stay inside where it's warm once the winter does hit. And you know it will.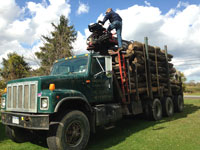 Perhaps you're in need of a custom order for a specific project? Dugan Creek Lumber has full milling capabilities for your customized order.
Do you have timber you need harvested? Dugan Creek Lumber will give you a free and fair estimate of your timberland.
Contact Dugan Creek Lumber at 585-226-6494.