G&G Window Repair - Repair Not Replace!
published on Monday, April 30th, 2018

Click on the banner above to visit the G&G Window Repair website! G&G Window Repair offers a wonderful (and cost savings) alternative to replacing windows that really just need an experienced window professional who can fix them!
If you have windows that stick (or are stuck!), windows that are drafty, screens that need new glass, whatever the problem give G&G Window Repair a call.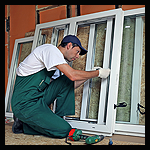 G&G Window Repair is located at 6710 W Henrietta Road in Industry N.Y. They can be reached by visiting their website or give them a call at 585-371-7052.