Gutterglove of Rochester Brings You Gutterglove IceBreaker
published on Thursday, December 8th, 2016
Gutterglove of Rochester offers Gutterglove Pro, Gutterglove Ultra and Gutterglove Icebreaker! All of these products are highly recommended by JimSalmon.com but since we're on the brink of winter let's talk about Gutterglove Icebreaker...
What does Gutterglove Icebreaker do? Gutterglove Icebreaker melts icicles, ice dams, and snow loads while keeping your gutters clean. There are so many benefits of having Gutterglove installed at your home. Here are just a few of the benefits of Gutterglove Icebreaker:
**When it's raining or snowing, Icebreaker filters out leaves, pine needles and sand from your gutters.
**Melted snow in the winter, and rainwater in the fall and spring, are properly routed down your downspout so there are no rainwater erosion problems to your landscape.
**Icebreaker's ice melting technology only needs one heat cable to melt the ice in and on your gutter. Saves on energy!
**You can harvest the snow with Icebreaker. The debris free melted snow can travel all the way to your rainwater storage tanks.
**No more gutters being ripped off your home from sliding snow and ice off your room. Icebreaker is like a ski jump and the snow and ice just slide off leaving your gutters intact.
**Eliminates gutter cleaning and clots forever!
As you can see it would be almost silly NOT to have Gutterglove!
To visit their website and learn more about all of their products click on the Icebreaker banner below.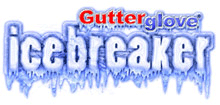 Gutterglove of Rochester * 106 Craig St. * Rochester, NY 14611
585-326-1051