Gutterglove Systems Save You Time and Trouble!
published on Wednesday, October 19th, 2016
How many times have you cleaned your gutters so far this year? Please do NOT say you haven't...unless you have Gutterglove. If you have Gutterglove you've saved yourself a lot of time and trouble. If you don't...please read on!
Gutterglove can fit snugly and install onto any existing system. It eliminates the need to clean gutters and thereby gives you peace of mind and more free time. Gutterglove has a variety of options depending on your specific needs:

Gutterglove Pro is the strongest and most durable gutter guard on the market.

Gutterglove Pro keeps all of the leaves, pine needles, and sand out of your gutters (the folks at Gutterglove fondly refer to Gutterglove Ultra as the little brother to Gutterglove Pro).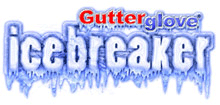 Gutterglove Icebreaker melts icicles, ice dams, and snow loads while keeping your gutters clean.
Whichever Gutterglove system you choose you can be sure you'll be glad you did...just read all the raving reviews!
Gutterglove of Rochester * 106 Craig St. * Rochester, NY 14611
585-326-1051