Jag Construction Spray Foam Insulation
published on Thursday, June 9th, 2016
So we had a mild winter and everyone was thrilled but living in Western New York we all know that wasn't the norm. We'll gladly take mild winters when we get them but we can't forget what a real Western New York winter is like. Snow. Frigid. Ice. Shoveling the driveway. Shoveling the roof. Is there a point to this? Yes there is! The point is don't let last winter make you complacent. Next winter might not be so mild and now is the time to be proactive. Now is the time to consider adding spray foam insulation to your home which can reduce your heating (and cooling) costs by 25-50%.
You probably know that ice damming is generally an insulation issue. If you've had ice dams in the past you should know that it's not a one-time 'fluke'. Ice dams occur when snow on the roof holds in the heat in the attic causing the bottom of the snow just above the shingles to melt. When that melting snow runs and reaches the overhang it refreezes and an ice dam occurs. When this happens the insulation has been compromised or damaged and therefore the ice damming problem won't go away, it will just get worse.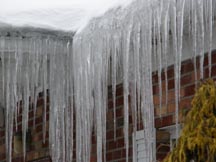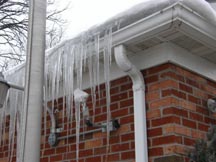 So, now is the time to be proactive. Jag Construction is the expert in the field of spray foam insulation. (Besides insulation, they also provide a variety of other Residential and Commercial Contracting Services). Take advantage of the warmer spring and summer weather to maintain and improve the greatest investment you have...your home.
Click on the banner below to visit their website.