Jag Construction - The Insulation Experts!
published on Wednesday, December 12th, 2018

Click on the banner above to visit their website! The folks at Jag Construction are the experts when it comes to insulation and have been serving the Greater Rochester Area for 40 years.
How often does the insulation in your home actually cross your mind? For most of us the answer is probably 'never'! But it should. And not just in the cold weather, insulation keeps the heat from coming in on a warm day and from going out on a cold day. If you are not sure what the situation is as far as insulation we suggest you schedule an appointment with Jag Construction to see what they can do for you!
And if this is happening at your house you definitely need to call Jag Construction! Visit their website and learn about ice damming here.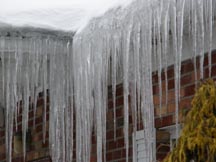 585-621-7040
SERVING ROCHESTER, NY