John Welch for all your yard beautification!
published on Tuesday, March 15th, 2016
John Welch Enterprise is THE 'go to' company! This spring has been slow coming and our yards need tons of work. They have just the crews to do it!
Let them help get your 'to do' list - done! Need mulch around in your flower gardens? How about putting in that paver walkway you've always wanted? Of course, a brand new paver driveway is a beautiful addition to your yard. They do incredible hardscape designs, including outdoor kitchens and waterfalls.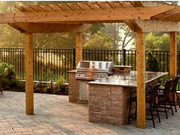 Can you imagine the fun and ease of having your cooking area outside! Perfect for entertaining with a gorgeous outdoor paver patio, too!

John Welch Enterprise can handle it all and you'll know you have experts creating your outdoor masterpiece with their special touch and creativity.
Click on banner below to visit website.

and then call today,
585-924-4488