O'Connell Electric - Who They Are and What They Do!
published on Saturday, June 17th, 2017

Who is O'Connell Electric?
O'Connell Electric Company is a full service regional electrical, power line, and communications contractor headquartered in Upstate New York.
What do they do?
As a diversified full service electrical contractor, O'Connell provides comprehensive design-build, construction, service, maintenance, and emergency response services. They bring reliable electrical power, lighting and communications to facilities, structures and communities from a range of sources. Their dedicated service divisions cover all key areas of the industry from electrical construction, power generation, substations, and transmission/distribution to transportation, technical services, renewable energy, and communications.
We've borrowed the above descriptions directly from their website to get the descriptions correct. Please visit their website where you can read much more about their company, their services, read about and view images from some of their projects and much more.
Jim 'sporting' the O'Connell attire at one of O'Connell's many projects, the Nik Wallenda Grand Canyon Walk.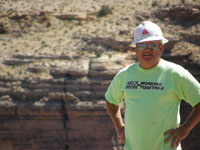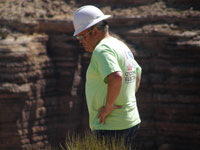 www.oconnellelectric.com
830 Phillips Road
Victor, New York 14564
585-924-2176