Pet Resistant Screens? Absolutely at G & G Window Repair 585-371-7052
published on Thursday, October 15th, 2020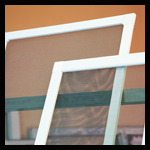 Do you know what those are? Those are pet resistant screens available from G & G Window Repair. It's fall and fall is the time of year we love to leave our windows and doors open but those of us with pets know what damage can happen as a result. Solution - pet resistant screens from G & G Window Repair!
Our pet-proof examples are robust enough to withstand the attentions of your kitty cat as it makes a bid for freedom to chase those birds it spies through your open windows. - G & G Window Repair

G & G Window Repair has been in business for 17 years. With more than 40 years of window experience, you can trust them to do your window work.