Repair Windows Instead of Replacing Them with G&G Window Repair!
published on Wednesday, December 26th, 2018
When you take your decorations down this year give some extra attention to your windows, are they in need of repair? Do you notice there are drafts and leaks? The good news is you don't always have to replace the windows, G&G Window Repair can often repair your current window saving you money. And at this time of year that is great news!!
Click on the banner below to visit their website:

G & G Window Repair has been in business for 17 years but they have more than 40 years of window experience! This is a company you can trust. They have the skills, equipment, and dedication necessary to get your windows fixed in a timely and cost-effective manner. Whether you need broken parts repaired or replaced, glass replaced, or sills rebuilt, they can do it all, they can give life back to your existing windows!
Give yourself an after Christmas gift...repair and save your hard earned money!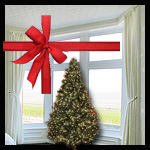 6710 W Henrietta Road
Industry, N.Y. 14543
585-371-7052