The AquaSource Group Solves Your Water Quality Problems!
published on Tuesday, October 2nd, 2018

Click on the banner above to visit the website of the people who will solve your water quality problems!
Many of us here in Western New York use water softeners. If you are new to the need for a water softener you can certainly find many people who can tell you how beneficial they are. That may be enough for you but if you're the type to wonder further...how does a water softener work...The AquaSource Group answers that question in a very understandable way. Click Here and in just a minute or two you will understand how a water softener works!
Whether you are in need of a water softener or any other water quality services we highly recommend you contact The AquaSource Group!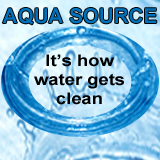 8960 MAIN STREET HONEOYE, NY 14471
MON - FRI: 8 AM - 5 PM
SAT: CLOSED
SUN: CLOSED