The Benefits of a Metal Roof from The Metal Roof Outlet
published on Friday, February 8th, 2019

Click on the banner above to visit their website!
Benefits of a metal roof:
A metal roof is a premium product which does not begin deteriorating as soon as it is installed.
A metal roof will save you money in the long run versus other roofing products.
A metal roof is just about maintenance-free., all you have to do is occasionally hose it down from the ground.
A metal roof keeps your house comfortable, regardless of the weather outside and can actually lower your air conditioning and heating bills.
A metal roof provides a weather tight covering that will not allow water to penetrate the roof and leak into the home.
And the list goes on and on...
We highly encourage you to visit The Metal Roof Outlet Website to find out more about the benefits of installing a metal roof! The Metal Roof Outlet is the best metal roof contractor in the area!!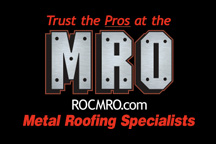 1513 Empire Blvd
Webster, NY, 14580
585-703-4982