Time for Replacement Windows? Call Comfort Windows!
published on Tuesday, June 25th, 2019
Comfort Windows is a well known name. They made their name with replacement windows. When the time comes that you need to replace the windows in your house...wouldn't it be best to use a company that is so well known and that became so well known because of their experience with replacement windows? Just seems to make sense, doesn't it?!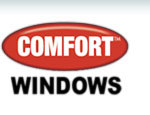 Click on the Comfort Window button above to visit their website. We'll save you the search...here is why Comfort Windows says you should choose them...and we agree.
WHY CHOOSE COMFORT WINDOWS
Replacement windows are a significant investment, and one with the potential to pay you back in increased comfort, energy savings, and home value. So it's critical to choose a high-quality product from a company with a stellar track record of customer service.
Here's why Comfort Windows fits that bill:
We manufacture our signature window line ourselves right here in Upstate New York, and we've been doing that for more than 40 years. We've built our entire home improvement business around our windows — and we're very proud of that.
We make our windows with the unpredictable climate of New York state in mind. All our locally made custom replacement windows exceed ENERGY STAR® standards for efficiency, saving you money on your utility bills and providing maximum protection against the elements. We also use flexible Health Smart foam spacers instead of metal spacers in all our windows to save energy and prevent condensation.
Only trained Comfort Windows staff will install your windows — no subcontractors, ever. We can't emphasize this enough: proper installation is vital to getting the energy savings and comfort benefits you expect out of custom replacement windows. Your new windows will be installed by experienced pros who know how to get the job done right.
We warrant all our installations and offer customer-friendly financing options.
We've won a long list of awards for our work, including the Better Business Bureau's Torch Award for superior customer satisfaction, which we've won four times in the last ten years.
Our Lead Safe Work Practices help to protect you and your family from lead dust during renovations.

Now that you know, and are very likely convinced, head to 1380 Scottsville Rd. in Rochester and begin the process of getting your home up to par with new replacement windows from Comfort Windows! Or, give them a call at 585-235-7839.