Trust Comfort Windows for Your Replacement Windows!
published on Wednesday, November 7th, 2018
If someone asked you for a window replacement company what name would come to mind? Nine out of ten, or maybe ten out of ten, times when someone is asked this question the company that comes to mind is...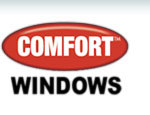 You hear about them on the radio. You see their commercials on television. That may be why their name comes to mind before all others, but no company sustains the test of time unless they are reliable, trustworthy, professional and customer friendly. In other words a great company!
Comfort Windows is New York's premier replacement window and home improvement company and has been a part of our community for more than 38 years. You can trust your first instinct when thinking about a window replacement company. You can trust Comfort Windows.
If that isn't enough for you CLICK HERE to read more reasons why you should choose Comfort Windows.
1380 Scottsville Rd
Rochester, New York 14624
Phone: 585-235-7839