Turkey Turkey Turkey! And Then Prime Rib at Tillman's Village Inn!!!
published on Monday, November 23rd, 2020
Turkey for a while THEN Prime Rib at Tillman's Village Inn!
Turkey. Turkey. Turkey. Turkey. Of course we eat turkey...it's Thanksgiving! We eat turkey. We eat turkey leftovers. We eat turkey sandwiches. We eat turkey croquettes. Turkey pot pie. Turkey salad. Turkey burritos.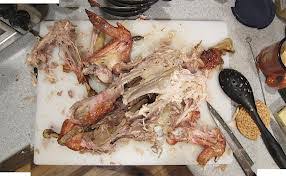 And then, at some point in the days following Thanksgiving, we just can not eat one more bite of turkey. This is the turning point. This is when the only thing that will suffice is a big juicy prime rib dinner!
And we all know the best place to go for the best prime rib around...
Enjoy the turkey. Then when you need that amazing post-Thanksgiving prime rib dinner head to Tillman's Village Inn at 14369 Ridge Road in Albion!!!