Want Warmth This Winter - Dugan Creek Lumber
published on Tuesday, April 5th, 2016
I've heard that this winter is going to be cold again. I've heard that it's going to be harsh. Today is the first day of Autumn. What does that mean? The next season is.....WINTER.
Are you ready for winter? Do you have everything you need to keep your heating bill low? If you don't, consider calling Dugan Creek Lumber. They have what you need: log loads or slab wood.
Dugan Creek Lumber recently delivered to the Salmon abode, a log load.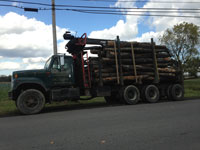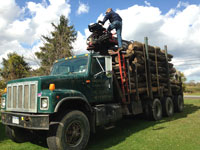 This is one load. Will it be enough?

Prepare for winter now! Make the call to Dugan Creek Lumber today. Call (585) 226-6494.