Waters Basement Services Make Your Basement Usable Living Space!
published on Friday, June 3rd, 2016
Everyone could use more living space. Most people have that extra space they just don't know how to turn it into a livable usable space. We're talking about the basement of course. The word basement too often triggers thoughts of damp, mildew and mold but it doesn't have to be that way. Waters Basement Services can transform your basement space into a dry healthy living space for anything you want it to be. Do you need a playroom for the kids? An office space? A family room to kick back and relax? Whatever you wish your basement could be...it can be!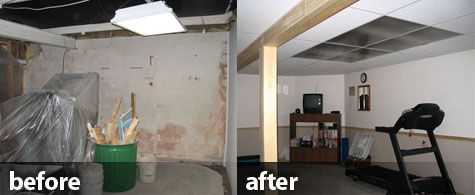 Look at that difference! Not only will your basement be usable but it will be healthier too. Moisture causes mold and mildew which have adverse effects on health. Basement waterproofing will reduce or eliminate moisture. You can even add a Bilco Door or Egress Window to add code-compliant living space and increase the value of your home.
Why let such a valuable space be wasted? Give Waters Basement Services a call at 585-765-3369 (Rochester) or 716-474-3898 (Buffalo) or visit their website by clicking on the logo below.