Waters Basement Services "The Reinforcer"
published on Friday, August 12th, 2016
What would you do if you stepped into your basement and realized the walls were cracked or bowed? Panic right? That's what most people would do! But don't. Waters Basement Services has the solution for bowed or cracked walls. Their solution? The Reinforcer.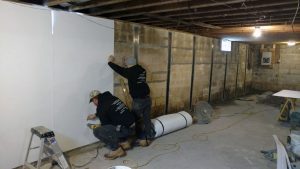 The Reinforcer, Carbon Fiber and Waterproof Wall Panels, is a patented state-of-the-art system developed by professional engineers which is applied to the foundation taking the tension force. The Reinforcer replaces the need of steel beam installations.
Now that you know, if you or someone you know is in the midst of a deep panic situation because of bowed or cracked basement walls call Waters Basement Services and ask about The Reinforcer!

Rochester (585) 765-3369 Buffalo (716) 474-3898
Visit Waters Basement Services Website