Advantage Federal Credit Union - Home Equity Loans & Lines of Credit
Friday, May 28th, 2021

A Home Equity Line of Credit (HELOC)* gives you the flexibility to borrow funds as you need them. The line can be reused as it is paid down, without applying for a new loan. Using your line of credit is as easy as writing a check. - From the Advantage Federal Credit Union website.
Advantage Federal Credit Union would be delighted to answer any inquiry you might have about your financial affairs. Just use the "Chat Now" option on their website!
What would you do with some extra cash from a home equity loan or line of credit? A swimming pool? An outdoor kitchen? Update your kitchen? Bathroom? Take a vacation? WHATEVER you're dreaming of, Advantage Federal Credit Union will help you make those dreams come true!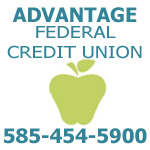 www.advantagefcu.org
1975 Buffalo Road
Rochester, NY 14624
Telephone: 585-454-5900