All County Gutter - A Full Service Gutter Company!
Friday, November 12th, 2021

Commercial and Residential

Gutter Manufacturing Company

Cleaning Service and Ice Removal

Affordable

Installation And Repair

Quality Work And Performance

Fully Insured

FREE ESTIMATES!
Click on the banner above to visit their website and learn more about All County Gutter, their services and their products.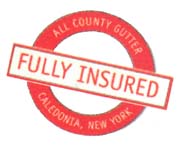 3206 Lehigh St.
Caledonia, NY 14423
585-538-4226