All County Gutter - A Full Service Gutter Company!
Friday, October 8th, 2021
Tired of being dripped on when it's raining and you're trying to get your house keys out? Do you have standing water on your walkway from a clogged downspout?
Call All County Gutter for replacement parts.
They have so many color selections for gutters. If All County Gutter doesn't carry the color you're looking for, ask! They most likely can get it.
All County Gutters has many, many parts for your gutter repair or replacement. If you are not the handyperson, call today (585) 538-4226 for a free estimate. When you call and make the appointment, you'll not be disappointed. All County Gutters delivers professionalism, quality craftsmanship and personalized service to you.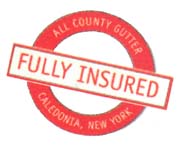 www.allcountygutter.com
3206 Lehigh St.
Caledonia, NY 14423
585-538-4226