All County Gutter Cleans Your Gutters!
Tuesday, October 16th, 2018
Autumn leaves are beautiful but when they fall they have to land somewhere. Doesn't it seem that an inexplicable amount find their way into your gutters?! You can get your ladder out and do the job yourself, or, you can call All County Gutter and let the professionals do it for you.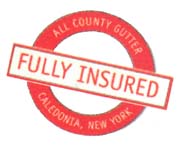 All County Gutter is experienced and reliable...we are lucky to have such a great business in our area! For any of the services listed below give them a call at 585-538-4226.
Commercial and Residential Gutter Installation
Gutter Manufacturing Company
Gutter Cleaning Service and Ice Removal
Heat Cables
Leaf Protection
Affordable
Installation And Repair
Quality Work And Performance
Fully Insured
FREE ESTIMATES!