All County Gutter - Installation, Repair, Cleaning and More!
Thursday, March 7th, 2019

Every homeowner knows that gutters are a part of a regular maintenance program. What every homeowner doesn't know is that All County Gutter can provide all your gutter needs, from 5" and 6" seamless K-style gutter installation, gutter cleanings, repairs, manufacturing, to specialty work including half round, copper and galvanized gutter solutions. So whether you are preparing to build your first home, repairing existing gutters, or replacing gutters on a fixer-upper...All County Gutter is your go-to gutter company!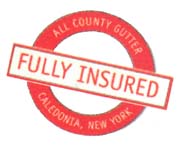 All County Gutter is a complete manufacturing facility that makes their own downspouts, elbows and transitions, and therefore they can do the custom work you need! If you need a special length downspout, or customized color they can do that! Don't waste your time running from company to company looking for that specific piece or color or size, All County Gutter has or can make what you need.
3206 Lehigh St.
Caledonia, NY 14423
585-538-4226