All County Gutter - Like Them on Facebook!
Thursday, April 26th, 2018

Click on the banner above to visit their website!
Follow All County Gutter on Facebook and see all the amazing projects they've worked on. We can tell you that JimSalmon.com recommends All County Gutter for all your gutter needs...and when you see the work they've done you'll see why! A picture is worth a thousand words!
Commercial and Residential
Gutter Manufacturing Company
Cleaning Service and Ice Removal
Affordable
Installation And Repair
Quality Work And Performance
Fully Insured
FREE ESTIMATES!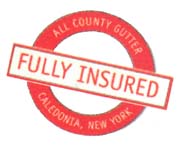 Call 585-538-4226 or visit their website here.