All County Gutter - Maintain Your Gutters!
Friday, March 25th, 2022

Maintain your gutters by calling All County Gutter. Serving the Rochester and surrounding areas since 1988, they are your total solution when your gutters need attention.
Commercial and Residential Gutter Installation
Gutter Cleaning Service and Ice Removal
Heat Cables
Leaf Protection
Affordable
Installation And Repair
Quality Work And Performance
Fully Insured
FREE ESTIMATES!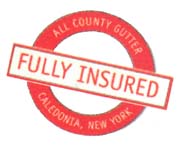 CALL 585-538-4226