All County Gutter Repairs After Storm Damage!
Tuesday, July 26th, 2016
This seems to be the summer of the brief-but-fierce-storm. While these storms do nothing to improve our drought situation they can cause havoc on our gutters. If the integrity of your gutters has been compromised by one of these crazy storms give All County Gutter a call. All County Gutter has been in business since 1988 and has long since established the kind of reputation you want in a contractor.

*Commercial and Residential
*Cleaning
*Installation And Repair
Don't put off gutter repair. It can have serious consequences. If the rain saturates the soil around your foundation you can be sure some of that moisture will make its way into your basement.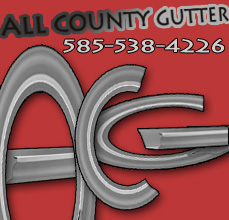 www.allcountygutter.com
3206 Lehigh St.
Caledonia, NY 14423
585-538-4226
FULLY INSURED ***** FREE ESTIMATES