All County Gutter - Your Gutter Solutions
Thursday, March 31st, 2016
Being a home owner takes a lot of responsibility and care. One area that can be easily over looked are our gutters. Many do not realize the important role they play in keeping our roof and siding safe from the elements. Just ask the professionals at All County Gutter.

This family owned business is large enough for any residential or commercial property, yet pride themselves on giving each customer the personal attention of a small business. Providing solutions that give results, is what puts them above the rest. Whether your gutters just need cleaning, ice removed or total replacement; All County Gutter has you covered. They are committed to deliver the service you expect. Visit their website to see the variety of services they offer.

Maintain your gutters by calling All County Gutter. Servicing the Rochester and surrounding areas since 1988, they are your total solution when your gutters need some attention. Call today to receive your free estimate!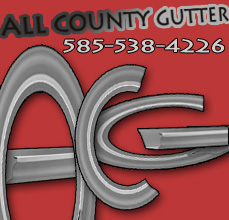 3206 Lehigh St. Caledonia, NY 14423
585-538-4226