Attic Insulation Questions? Coler Natural Insulation Answers Them!
Tuesday, April 19th, 2022
One of the questions we are often asked about is attic insulation and the very second the question is posed to us we think 'Coler Insulation'!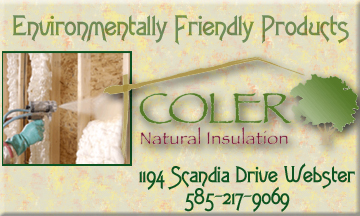 What Type Of Insulation Does My Attic Need?
"That will depend on your budget and what you are looking for with your home energy savings. The best part about relying on Coler is that we educate you on the different products we offer and let you decide. There is no pressure or unwanted sales tactics, just facts and our professional opinion." - Coler Natural Insulation
Coler Natural Insulation is a family run insulation company that provides insulation solutions for those in the residential, commercial design, building and occupancy process.
1194 Scandia Drive
Webster, NY 14580
585-217-9069