Become an Advantage Federal Credit Union Member!
Thursday, March 29th, 2018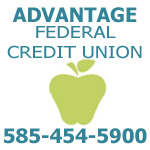 Click on the banner above to visit the Advantage Federal Credit Union website. Serving its members in the Rochester community since 1931, AFCU now serves over 20,000 members! There is a reason. Advantage Federal Credit Union (AFCU) is a not-for-profit financial organization wholly and locally owned and operated by and for its members. As a cooperative financial institution, AFCU members benefit from generous dividends on savings and low rates on loans. Don't you want to be a part of that?!
Visit their website by clicking on the banner on the top of this article or give them a call at 585-454-5900.
Perhaps you're thinking of doing some home improvements or updates this year? A Home Equity Line of Credit from Advantage Federal Credit Union gives you the flexibility to borrow funds as you need them.