Rochester Appliance Has The Best Appliances for Holiday Hosting and/or Gifts!
Monday, November 7th, 2022
Are you planning a big holiday get together? Are you making out your Christmas wish list? If a kitchen appliance is on your list, or you would really love to replace those old partially working appliances, we highly recommend you head to Rochester Appliance! The inventory is unbelievable...the prices are extremely reasonable...and the customer service is far above and beyond expectations.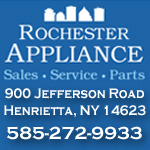 Cooking:
Ranges & Cooktops
Wall Ovens
Hoods
Microwaves
Grills & Barbeques

Kitchen Cleanup:
Dishwashers
Dishwasher Accessories
Trash Compactors
Waste Disposals
Accessories

Laundry:
Washers
Combo Washer/Dryers
Dryers
Laundry Pedestals
Hoses & Other Accessories

Refrigeration:
Refrigerators
Freezers
Specialty Refrigerators
Accessories