The Folks At All County Gutter Are Truly Our Area's Gutter Experts!
Monday, March 2nd, 2020
Gutters have one job: to divert water away from your home!

Click on the banner above to visit All County Gutter's website if you need:
New Gutters Installed
Current Gutters Repaired
Gutter Parts
Gutter Cleaning
Heat Cables
Or, if you have any questions about the state of your gutters, because the folks at All County Gutter are truly our area's gutter experts! They are a Full Service Gutter Company!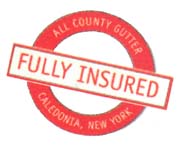 Whether standard K-style 5" or 6" seamless aluminum, copper or galvanized steel, we can do it all. We use the highest quality, heavy gauge material, the best stainless-steel fasteners and highest quality hangers in the business. Our installation team can handle any job, from brand new gutters, tear offs, to repairs. -All County Gutter
www.allcountygutter.com
3206 Lehigh St.
Caledonia, NY 14423
585-538-4226