Whatever You Need All County Gutter Can Make It!
Tuesday, May 18th, 2021

All County Gutter is a complete manufacturing facility. If you're having trouble finding a part you need, contact All County Gutter. Whether it's a specific length or a specific color that you are having trouble finding, they can manufacture it for you. If it's installation you're in need of, their installation team can handle any job, from brand new gutters, tear offs, or repairs. And, they pride themselves on servicing all gutter needs, no job is too big or too small! They will take care of all your gutter needs and you can be assured they will exceed your expectations!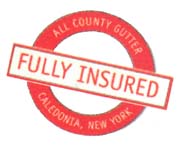 3206 Lehigh St.
Caledonia, NY 14423
585-538-4226