All County Gutter for Gutter Repair and Parts!
Sunday, April 2nd, 2017
The month of March left an incredible number of people with storm damage, gutters were hit hard! If your gutter took some damage don't let just anyone come and 'fix' it, make sure you have an experienced gutter company like ALL COUNTY GUTTER.

Commercial and Residential
Gutter Manufacturing Company
Cleaning Service and Ice Removal
Affordable
Installation And Repair
Quality Work And Performance
Fully Insured
FREE ESTIMATES!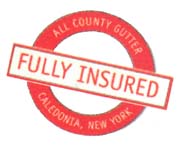 585-538-4226