Bruce Landis - A Real Photographer
published on Friday, May 18th, 2018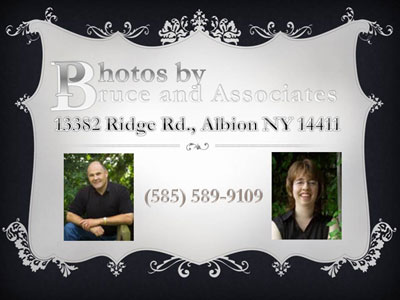 Everyone is a photographer these days, have you noticed? At least, that's what they're calling themselves. The truth is, just because you own a camera and have a social media page it doesn't make you a photographer. It makes you the owner of a camera and a social media page. Bruce Landis is a professional photographer.
Bruce Landis is a Certified Professional Photographer and Professional Photographers of America Craftsman Photographer. Bruce began his photographic career in 1974 and in 1978 moved to the current location at 13382 Ridge Road in Albion. As a life-long resident Bruce is a strong supporter and major donator to the Orleans County Nursing Home, The Villages of Orleans, Medina Memorial Hospital, ARC, and Orleans County 4-H Programs. Bruce has also served as an officer including President of Albion Rotary Club, and officer including two terms as President of the Greater Rochester Professional Photographers, Delegate to the Professional Photographers of New York State and is an Elder of Barre Center Presbyterian Church. Bruce shares his knowledge and talents as a teaching photographer at several levels. He has taught other professional photographers through programs on the national level, New York State level, regional level and locally, through Professional Photographers of America, Professional Photographers Society of New York State, Professional Photographer Societies of Greater Rochester, Finger Lakes, Buffalo/Niagara and Southwestern New York State, Professional Photographers of Hawaii, and locally at the Albion Central School and Medina YMCA. Bruce holds the distinction of Certified Professional Photographer, the highest standard in quality of photos and business ethics, and also holds the Craftsman Photographer Degree from the PPA. Bruce has won many awards for his photography over the years locally, regionally, statewide and internationally. He also has mentored several students through The College at Brockport (Amber, Cathy), Genesee Community College (Sheri and Chelsea) the Career Education Internship (Briana and Kelly) and Albion High School(Kim and Tia).
Next time you consider a photographer you found on social media find out what their photography bio looks like.
For a REAL photographer contact:
Phone: 585-589-9109
Text: 585-589-9114
E-Mail: info@photosbybruceandassociates.com
13382 Ridge Road West
Albion, New York 14411