It's all at the ReHouse Store...stop in today!
published on Monday, April 4th, 2016
Visit the ReHouse Store at 469 W Ridge Rd. in Rochester to find those one of a kind items that you can't find anywhere else. ReHouse Architectural Salvage salvages products from houses being demolished or remodeled. Whatever you're looking for chances are they'll have it, their stock is unbelievable. You might just surprise yourself and fall in love with something completely different and forget all about what you thought you wanted!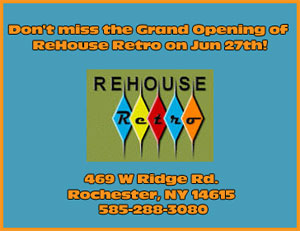 Stop in to ReHouse Architectural Salvage and pick up some wonderful retro pieces, some quality reusable antiques, vintage and modern building materials, or a piece of furniture that you never knew you had to have. But you do. You really do. You have to have it. Stop in today!