Make The Switch To Propane - Superior Plus Propane!
published on Thursday, February 13th, 2020
Are you cold? Are you having trouble keeping your home at a comfortable temperature? Maybe it's time to upgrade your heating system and make the switch to propane. And Superior Plus.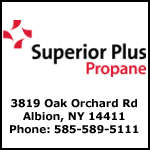 Propane is highly efficient, and the price per gallon is typically lower than heating oil and other fuels.
Propane burns cleaner and emits fewer greenhouse gasses than heating oil, gasoline, and other common fuels.
Propane is an ideal choice to heat homes and fuel water heaters, clothes dryers, stoves, ovens, fireplaces, standby generators, and more.
Superior Plus
3819 Oak Orchard Rd
Albion, NY 14411
Phone: 585-589-5111