Old Stuff Day at ReHouse Architectural Salvage on Thursday March 2nd!
published on Thursday, March 2nd, 2017
How great are the folks at ReHouse Architectural Salvage? If you ask us we'd say they're incredibly great!! Just look at what they are offering to do to benefit two great causes...
If you unearth some artifacts that are ready to move on, please consider donating them* to Salmon Children's Foundation or Vietnam Veterans by dropping them off* at ReHouse March 2-4 and we will supply you with a tax deduction receipt.
(* We will accept items in good condition and consistent with ReHouse's product inventory. Items will be sold at ReHouse and proceeds will be forwarded to the respective organization.)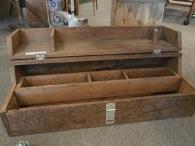 This is the day to celebrate old stuff, bygone relics, and ancient artifacts. Whether in a museum or your own closet, old stuff should be enjoyed. Spend some time with your old stuff today.

469 W Ridge Rd. Rochester, NY 14615
585-288-3080
Thank You to ReHouse Architectural Salvage and Thank You to all who participate!