The Home Repair Clinic Podcasts - Every Single One is Available to Listen to!
published on Tuesday, July 9th, 2019
The Home Repair Clinic Show (Broadcast Live on iheart NewsRadio WHAM 1180 Saturday mornings from 6:00 a.m. - 10:00 a.m. and Sunday mornings from 9:00 a.m. -11:00 a.m.) podcasts are available to listen to anytime! All of them! Every Single One!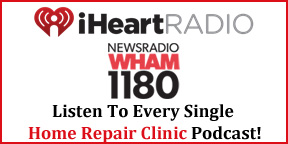 How do you find The HRC Podcasts when there are millions of podcasts out there? We'll make it easy for you, there are a few ways to get to them (and once you do be sure to bookmark the link for easy access in the future).
The instant easy way:
CLICK HERE FOR THE HOME REPAIR CLINIC PODCASTS
Through JimSalmon.com:
Go to JimSalmon.com
Click on the Home Repair Clinic Podcasts Tab on the Top of the Home Page
Through wham1180.iheart.com:
Go to the wham1180.iheart.com Home Page
Click on the Podcasts Tab at the Top of the Home Page
In the Drop Down Menu Click on Home Repair Clinic
You can 'follow' or 'share' from the HRC Podcast Home Page!!
You can't help but to enjoy The Home Repair Clinic with home repair and improvement related discussions, questions and answers, as well as frequent contractors & guests! We guarantee you education and entertainment!!