Stone Coated Steel from The Metal Roof Outlet!
published on Wednesday, May 31st, 2017
Time for a new roof? Stone Coated Steel is the ONLY Roofing Product you should use when reroofing your home.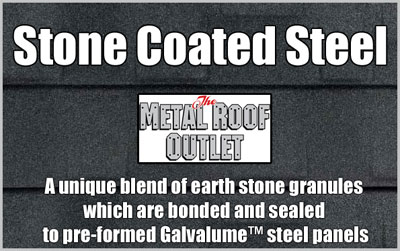 The benefits of Stone Coated Steel speak for themselves:
New Roof or Re-Roof over existing Asphalt and Woodshake Shingles,
Lifetime Limited Transferable Warranty, Lightweight and Long Lasting Steel,
120mph Wind warranted, Class 4 Hail Rated with 2.5 " Hail Stone Warranty & Class A Fire Rated,
Will not split, peel, crack, or curl,
Available in a wide range of Colors & Blends .
Contact The Metal Roof Outlet today to plan your new roof with Stone Coated Steel.