The Metal Roof Outlet Training Program for DIY'ers!
published on Thursday, September 16th, 2021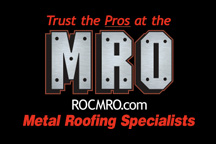 If you are a homeowner looking to tackle the project of installing a metal roof on your own, CLICK HERE to see why placing your material order with the Metal Roof Outlet is a smart choice.
That's right! The Metal Roof Outlet has a training program for contractors and homeowners wanting to install metal roofing. Not only that, their customers are encouraged to take advantage of their tool rental program as well as their MRO- PROtech rental program.
WOW! Support from the specialists! You can't beat that!

1513 Empire Blvd
Webster, NY, 14580
585-703-4982