Welcome Kevin / Kman Metal Works
published on Tuesday, March 10th, 2020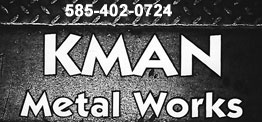 I'd like to introduce you to Kevin Kimmerly – Kman Metal Works!
Kevin worked the corporate world grind for years, then his world came to a screeching halt with the diagnosis of cancer. After overcoming the initial shock he pursued his options for treatment. Radiation, chemo, etc. which took it's toll, however, luckily he is now cancer free!
When you're faced with your destiny you re-evaluate your life and decide to live it how YOU want to! Priorities of family and friends take front row. Your happiness becomes one of those priorities. Kevin has the talent of creating so he decided to open his own business and retire from corporate.
He, now, is the owner and operator of KMan Metal Works where he can use his talent & passion to create beautiful artwork out of metal. These are well-made, quality, one of a kind pieces. He also makes industrial items such as ramps, carts, trailer accessories, whatever you may need! The sky's the limit!
Contact Kevin through his facebook page KMan Metal Works or call him directly at 585-402-0724 and email kmanmetalworks@gmail.com.